Submitting an on-demand embroidery order through your Igniteware portal is a breeze! Let's walk through the steps.

1. Once within your portal, you will request to "Order now" and select the decoration method Embroidery.
2. Select a product
By selecting embroidery as your decoration method, the catalog will automatically update to show you all embroidery approved items.

You also have the option to search a product by either SKU number or name.

Need help finding a product? Use the filters on the left hand side of your page to filter by garment type, brand, material, and much more!
3. Upload art
Embroidery orders require a DST file to procced with the cart. To get started you will need to uploaded your DST under the "View embroidery artwork" section of your portal.

Once you have your artwork uploaded, you will be able to name the design and select placement.
While building the design, you have the option to easily edit the previously determined thread colors within the artwork under "Thread colors."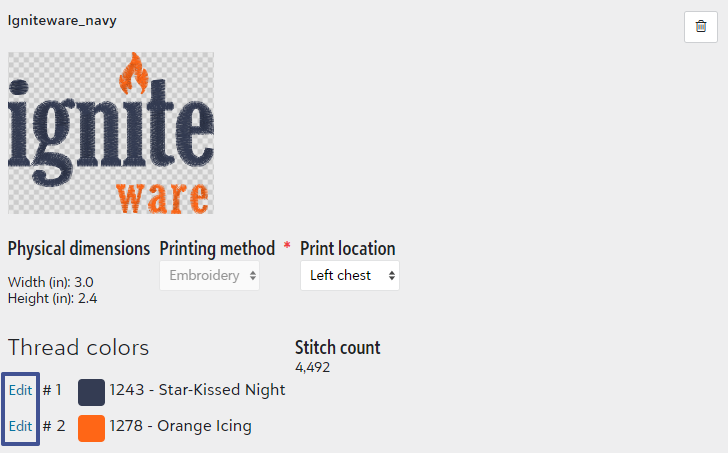 To add decoration to the sleeves, simply change the mockup by selecting the desired location on the right-hand side of your screen.
Walk through how to add DST files to your account
here
.
4. Select garment color and quantities
On the left hand side of your ordering portal, you are able to easily tab between the art, colors, and sizes.

Igniteware pulls stock data LIVE from SanMar, S&S, Alphabroder, and Carolina Made. When a garment has limited or no inventory, a warning message will reflect on the color.
5. Add the item(s) to a cart

Once you have confirmed the art, colors, and sizes of your order - you will "Add to cart" located at the bottom left hand corner of your screen.

Once an item has been added to your cart, you have the option to continue shipping, which will prompt you back to the catalog to add additional items - or checkout.
6. Checkout

At the checkout page, you will input your shipping address, method as well as payment method and PO reference number (optional). Then "Place order."


Ta-da!
All embroidery orders are automatically fold and polybagged.